Product Description
Topcon Hybrid Positioning System
Topcon's commitment to automating data workflows and increasing your productivity can be seen in this latest system of combined technology. Topcon's slogan of "Your Productivity, Our Technology" is our commitment to providing industry leading productivity systems based on software, hardware, and technology. Systems that improve the way you work.
The Hybrid Robotic System is the combination of GNSS positioning, an optical total station, and automated data workflow. By utilizing both GNSS and optical measurements, any job site project can be completed faster, and with the precision needed. In addition, by adding new efficient data workflows from MAGNET™, productivity overall will increase.
The precision and tracking ability of the DS robotic instrument provides precise measurements anywhere the prism can be seen. The GNSS positioning of the RTK rover pole can be used for measurements that are not in the line of site. The Topcon Tesla is the perfect balance between large screen MAGNET Field viewing and an all-day handheld controller. More than just an integrated surveying solution, the Hybrid Robotic System includes the data flow connection to the office. Exchange data files in real-time with MAGNET Enterprise.
There are many additional hardware configurations from Topcon that can benefit from the use of hybrid positioning. This technology is compatible with other robotic instruments such as the Topcon PS, IS, DS, and GNSS receivers such as the HiPer V, Hiper SR, GRS-1, HiPer+, and others. 
Using the Hybrid Positioning System, job site measurements can be completed faster. Productivity will be increased with fewer robotic tripod setups. Collect measurements with GNSS or the robotic total station anywhere on the job site.
You can choose from 3 robotic instruments and a choice of 3 field controllers, please read below for a breakdown on each item
Ultimately, all 3 can perform the same tasks, Survey & Set Out!
DS Series
Considered the entry level robotic TS, however, this is still a powerful piece of kit which can link up to any of the field controllers we have to offer. The prism search routine is made easier with the guide lights and also the 'Find Me Here' function within Topcon's Magnet Field.
PS Series
The PS has all the features of the DS, with the added compatibility of the RC5, increasing working range from 300m to up to 1600m and adding the ability to turn directly to your prism on the pole! With added range to a prism (6km range), the PS is truly a powerful EDM.
GT series
Picks up where the PS left off and comes with an extra 2 year warranty as well as the super-fast UltraSonic Motors, the turning speed enables the GT to turn 180 degrees in a second, making this a truly quick machine. It also comes with a 30% weight reduction to the PS, making it one of the lightest and powerful machines available!The GT also has a built in GSM modem to enable fast data transfer direct from the instrument, straight to Magnet Enterprise! A complete instrument designed for unrivaled field to finish productivity.
Powerful & Rugged!
Topcon total stations are built to perform! Using the latest technology available, Topcon's total stations are built to work! With an environment rating of IP65 you can have confidence your instrument will carry on working when it counts most, ensuring the highest level of productivity available! In comparison, the Leica TS 16 is only rated at IP55.
Utilising Topcon's RC5 (GT/PS/DS200 Series) remote controller you can expect communication range up to 1.6km!!
| | | | |
| --- | --- | --- | --- |
| | Topcon DS Series | Topcon PS Series | Topcon GT Series |
| Magnet Field OnBoard | Yes | Yes | Yes |
| Robotic Capable | With AC+ Upgrade | Yes | Yes |
| Reflectorless Range | 800m | 800m | 800m |
| Prism Range | 5000m | 6000m | 6000m |
| RC5 Compatible | No | Yes | Yes |
| Communication Range | 300m | 300m (1600m with RC5) | 300m (1600m with RC5) |
| Modem On Board | No | No | Yes |
| Warranty | 1 Year | 1 Year | 3 Years |
| Environment Rating | IP65 | IP65 | IP65 |
| TS Shield | Yes | Yes | Yes |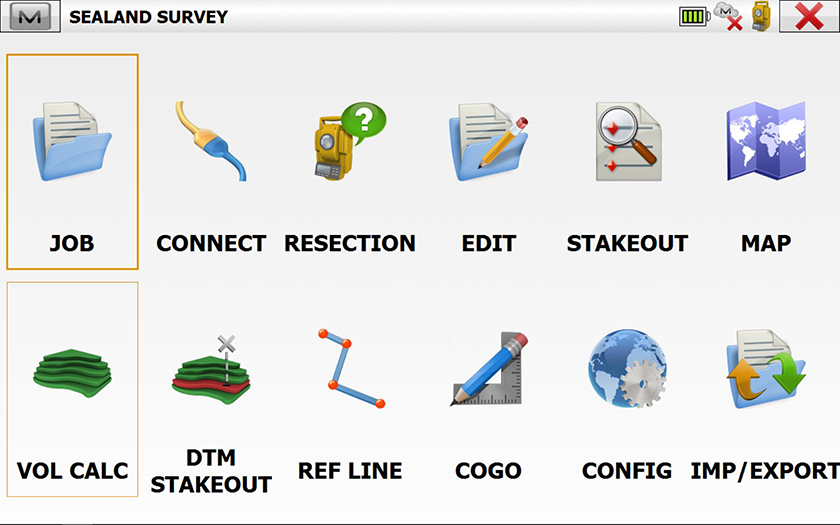 Magnet field has direct integration with AutoCAD and Bentley workflows and a host of import/export file formats ensures interoperability within any construction site.
Protected!
TS Shield is Topcon's patented security system is the ultimate tool for theft protection! In the event of theft, simply log on to TS shield and shut the total station down! You can then track the total station for retrieval! Not only does TS Shield keep your instrument protected, it also keeps your instrument up to date, with the latest firmware releases!
FC500 Field Controller
The FC500 boasts power and compactness with a 1GHz processor and 512mb of RAM in a handheld device. Packed with a sunlight readable display and benefits from the GNSS board that is in the TESLA, it becomes a handy, lighter GIS data collector.Light on the pole and fast in the hand, the FC500 is ideal for the busy site engineer that requires robust, fast kit. The FC500 comes with a quick release clamp mechanism to enable a fast detach from the pole if you need to take a picture of that manhole cover!
Tesla Field Controller
Topcon's Tesla controller benefits from an 806 MHz PXA processor which can process data approximately 45% better than Leica's CS15 Controller.With a 5.7" VGA touchscreen display, your field controller really does put your data on your pole!With its built in GNSS board, this unit comes in extremely handy for GIS applications and overlay your position in Magnet Field with a Bing Map.
FC5000 Field Controller
This controller puts a PC on your pole! Running Windows 10 and a Quad core Intel ® processor enabling you to interact with your data like never before! Don't be fooled by its compact size, the FC5000 runs normal Windows based applications, unlocking the ability to even send your invoices from out in the field.Compared to Leica's CS35, the FC5000 benefits from 2 hours more running time, an SD expansion slot (up to 128gb), 200g lighter, IP68 environment rating (the CS35 is IP65) and has an on-board GNSS board with 72 tracking channels (no option for this with a CS35)
With having the Windows 10 Operating System, our TechTeam can deliver the best level of support utilising online applications to see any issues you are having while in the field.
| | | | |
| --- | --- | --- | --- |
| | Topcon FC500 | Topcon TESLA | Topcon FC5000 |
| Processor | 1.0 GHz ARM Cortex A8 | 806mhz PXA320 | Intel Atom Z3745 |
| Operating System | Windows Handheld 6.5 | Windows Handheld 6.5.3 Pro | Windows 10 |
| Memory | 512 mb, RAM 8GB Flash | 256mb RAM, 4GB Flash | 4gb RAM, 64gb/128 GB Storage |
| Display | High Visibility Outdoor Backlit LCD | VGA LCD | WXGA LCD |
| GPS | 32 GNSS channel, SBAS receiver | 32 GNSS channel, SBAS receiver | NEO-M8N GNSS Receiver |
| Camera | 5mp Autofocus | 3.2mp Autofocus | 8mp Rear/2mp Front |
| Environment | IP68 | IP67 | IP68 |
| Dimensions | 91mm x 184mm x 38mm | 136mm x 220mm x 51mm | 137mm x 215mm x 35mm |
| Weight | 590g | 998g | 907g |
| Battery Life | 20 Hours | 16 Hours | 8-10 Hours |
| Recharge Time | 2 Hours | 2 to 4 Hours | 5 Hours |
| Bluetooth | 2.1 +EDR, Class 1.5 | 2.0 +EDR, Class 1 | v4 +EDR, Class 1.5 |
| Modem | Optional | Optional | Optional |
For extra support, you can always visit our online support portal, with no need to subscribe. With numerous manuals and Quick Guides, you may find the answer you are looking for. Visit our webpage and find it under 'Further info - Support Portal'
For any more information, or for a comprehensive quote on another robotic package, please call 01244 821 777
Product Videos
Custom Field
Product Reviews